Are you in the process of renovating or building a new home in Abuja? Are you looking for ways to achieve a luxurious and modern look for your property without breaking the bank? Look no further, as Artniom, a property consultant with years of experience in the industry, is here to guide you on how to achieve a luxury interior finishing on a budget.
First, let's define what we mean by luxury interior finishing. This term refers to the use of high-quality materials and finishes to create a visually appealing and functional living space. Some of the key features of luxury interior finishing include wall screeding, tiling, pop, marble, granite, and custom-designed furniture such as kitchen cabinets, wardrobes, and walk-in closets.
To achieve a modern and luxurious look for your property, it is important to work with a reputable property consultant such as Artniom. A property consultant can help you identify the best materials and finishes that will meet your budget and design requirements. They can also recommend trusted contractors and vendors who specialize in luxury interior finishing.
Screeding: A Solid Foundation for Your Walls
Screeding is an essential part of the construction process that provides a level and smooth surface for your walls. It is a cost-effective way to achieve a flawless finish that complements the other elements in your home. When done correctly, screeding ensures that your walls, POP, and other finishes look their best.
Floor Finishes
Tiles and marble are popular choices for luxury interior finishing due to their durability, low maintenance, and aesthetic appeal. You can achieve a high-end look with a variety of patterns, colors, and finishes that complement your overall design scheme. Porcelain and ceramic tiles are affordable options that mimic the look of natural stone, while marble adds a touch of luxury to any space.
POP: Add Dimension and Style to Your Ceilings
POP, or plaster of Paris, is a decorative material that adds dimension and style to your ceilings. It is a cost-effective way to achieve a luxurious look that complements the rest of your interior finishes. You can choose from a variety of designs, from simple to intricate, to add interest to your ceiling.
Lighting: Illuminate Your Space with Style
Lighting is an essential element of any interior design scheme. It not only illuminates your space but also adds a stylish touch to your home. You can choose from a variety of lighting options, from chandeliers to pendant lights, to create a focal point in your living room, dining room, or master bedroom.
Best Quality Doors and Windows
Doors and windows are essential components of any home. They not only provide security but also add to the overall aesthetic appeal of your property. You can choose from a variety of styles, from traditional to modern, to complement your interior finishes. Quality doors and windows also offer energy-saving benefits that reduce your energy costs.
Bathroom, Kitchen, Living Room, and Master Bedroom: Create a Cohesive Design Scheme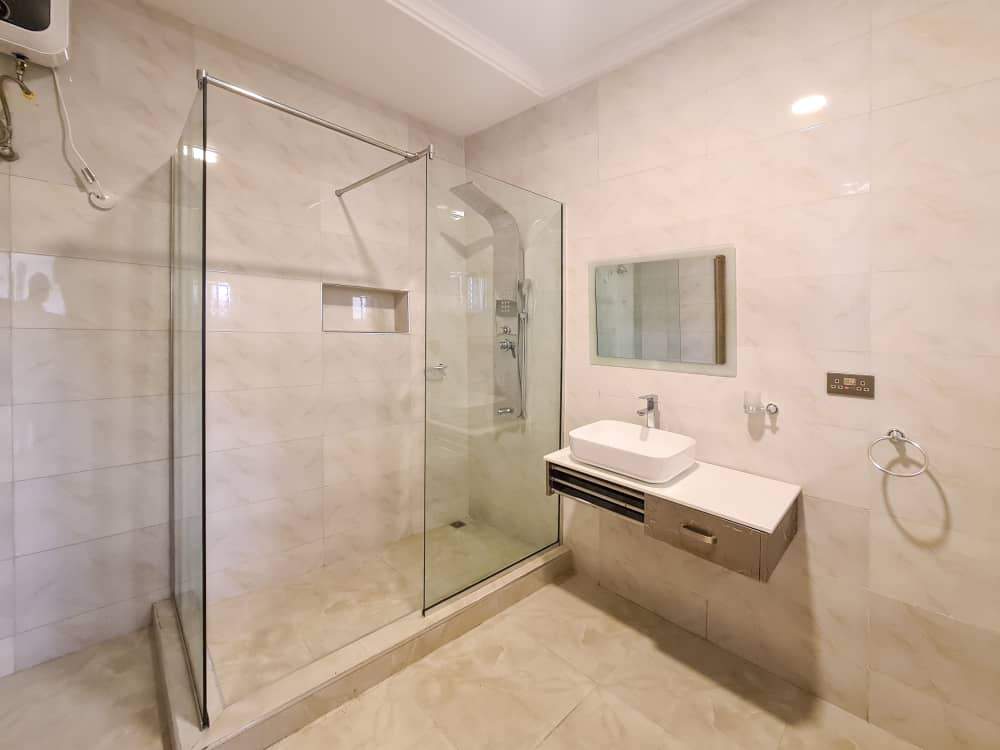 Creating a cohesive design scheme is essential to achieving a luxury interior finishing on a budget. You can choose a color palette that complements your overall design scheme and add accent pieces that elevate the look of your space. In your bathroom, you can add a stylish vanity and sleek fixtures. In your kitchen, you can choose a statement backsplash and a sleek countertop. In your living room, you can Incorporate texture on the walls: Consider adding texture to one or more of your walls to create depth and dimension. This could be achieved through materials like shiplap, wainscoting, textured wallpaper or even an interior stone wall cladding.
Artniom: Your Trusted Property Consultant
Achieving a luxury interior finishing on a budget can be challenging, but with the help of a consultant, it's possible. Artniom is a trusted property consultant in Abuja with years of experience in the industry. They can guide you through the design process, from choosing the right finishes to creating a cohesive design scheme that complements your overall vision.
In conclusion, achieving a luxury interior finishing on a budget is possible. With Artniom as your property consultant, you can achieve your dream home with ease.