The Nigerian real estate market presents a compelling opportunity for Nigerians living in the diaspora to secure high returns on their investments. With favorable exchange rates, and an increasing demand for quality housing, it's the perfect time for the Nigerian diaspora to consider real estate investing in their home country. In this blog post, we'll explore the reasons why Nigerians in the diaspora should seize this opportunity and provide valuable tips on how to invest in the Nigerian real estate market.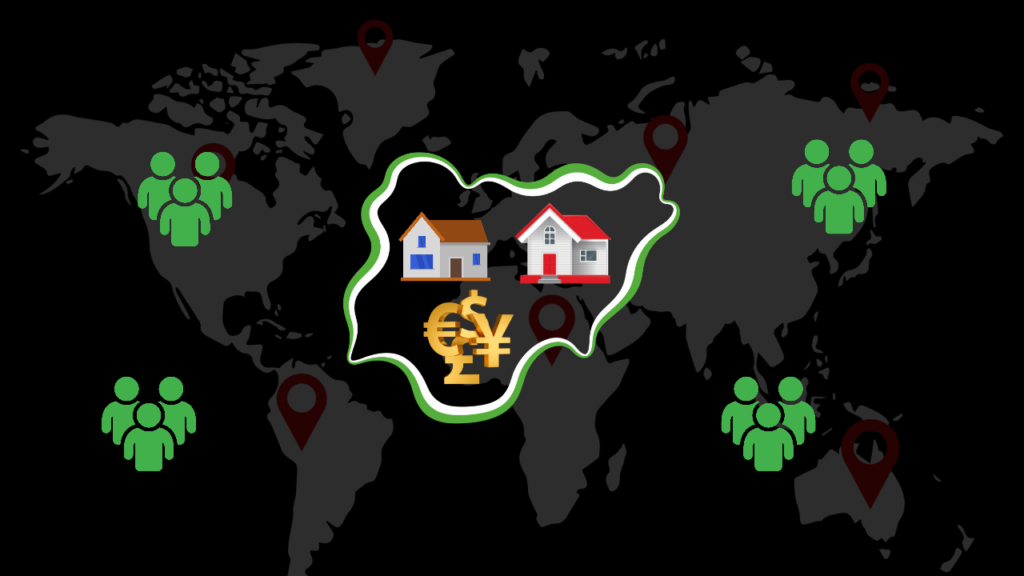 Nigerian Diaspora Statistics
Before delving into the real estate investment opportunities, let's look at some Nigerian diaspora statistics. As of my last knowledge update, the Nigerian diaspora population was put at 1.7 million as at year 2020 (Read Here), with significant communities in the United Kingdom, the United States and Canada. These statistics indicate a vast potential of investors based in the diaspora.
Leveraging the Favorable Exchange Rate
One of the key advantages for Nigerians in the diaspora is the favorable exchange rate. Many foreign currencies, including the US dollar, pound sterling and euro, often have a higher value when exchanged for the Nigerian naira. This means that you can get more for your money when investing in Nigeria, making real estate purchases more affordable and attractive.
Secure High Returns on Real Estate Investment
The Nigerian real estate market has witnessed steady growth over the years, offering the potential for high returns on investment. With increasing urbanization and a growing population, there's a rising demand for quality housing. Additionally, the government is making efforts to improve infrastructure and create a more conducive environment for real estate investment. This makes it an opportune time for Nigerians in the diaspora to secure high returns on their real estate investments.
Opportunities for Installment Payment on Properties
Many developers and real estate companies in Nigeria offer flexible payment options for their properties. This includes installment plans that allow investors to spread their payments over a specified period. This can make real estate investment more accessible for those in the diaspora who may not have large sums of cash readily available. It's essential to research and choose reputable developers and real estate agents who offer secure installment plans.
Real Estate Investing Tips
For Nigerians in the diaspora considering real estate investment in Nigeria, here are some valuable tips:
Read: 5 TIPS TO HELP YOU NAVIGATE THE ABUJA REAL ESTATE MARKET
Stay Informed: Keep up with real estate news and market developments in Nigeria to make informed investment decisions.
Conclusion
Nigerians in the diaspora have a unique opportunity to take advantage of the Nigerian real estate market, thanks to favorable exchange rates, potential for high returns, and flexible payment options. With a growing population and increasing demand for quality housing, investing in Nigerian real estate is a wise financial move.
The time to invest is now. Don't miss out on this golden opportunity to key in and secure your financial future.